Screaming Lord Byron
Screaming Lord Byron is a character both created and played by David Bowie for the short film, Jazzin' For Blue Jean, released in 1984 to promote the Tonight single of the same name, 'Blue Jean'.
In the film, Bowie plays both a clumsy, awkward would-be romantic, and Screaming Lord Byron himself. Byron appears to have several guises. He appears in the beginning of the film as any standard, Bowie musician during a live performance broadcasted. Then he's shown being pumped full of drugs (one of the film's many tongue-in-cheek self laughs to Bowie) and being relatively regal as his make-up is applied.
When the protaganist - played by Bowie, also - breaks through the roof to Byron's dressing room, Byron is shown as being extremely fearful, even paranoid; perhaps a nod to the effects of drug use. Nevertheless, when he appears onstage for the 'Blue Jean' video (which is cut directly from the Jazzin' For Blue Jean film), he is in his element; dressed in an Eastern-style dress with turban, loose-fitting, vibrant robes and iconic contouring make-up.
Screaming Lord Byron only featured in the Jazzin' For Blue Jean film, and was not portrayed by Bowie anywhere else, on or offstage.
The name of Screaming Lord Byron stems from real-life musician, Screaming Lord Sutch (who in turn was inspired by Screamin' Jay Hawkins - both were famed for their theatrics onstage, similar to Bowie) and Lord Byron; an early 19th century poet of the romantic movement, famed for his scandals and relationships. The combination of both paint a good picture of Bowie; or more how he was no doubt interpreted by the media of the time.
Gallery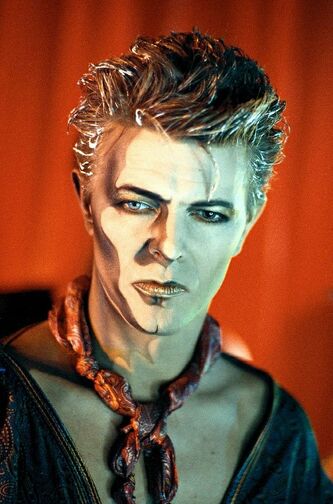 David Bowie personas
Major Tom, Ziggy Stardust, Aladdin Sane, Halloween Jack, The Soul Man, The Thin White Duke, The DJ, Pierrot, Screaming Lord Byron, Jareth the Goblin King, Button Eyes